I've not been able to get the new Deal-facedown-to-side command working in v3.6.2. In my actual module, I can achieve either the card face down to the side that it is supposed to be dealt to or face up to all.
In this simplified version, I have set a module up with PlayerSide Red and Blue to explore the new feature without various other triggers around that might be complicating matters. I still can't get it working.
In my test rig, this is my trait (a Trigger activates the "deal" key command):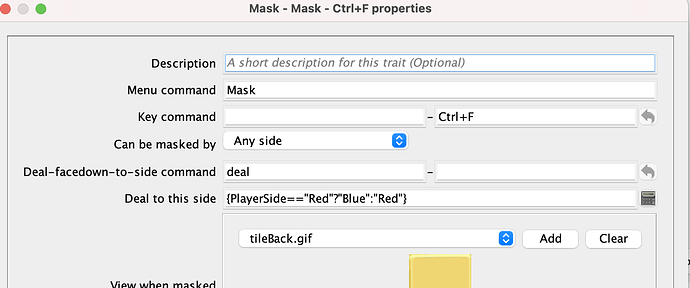 To replicate the issue,
open up an online game, start a new game connecting as Red.
Open another online session from a different player password, connect to the same game as Blue.
As Red, draw a card from the Red deck.
It is face up to both sides.
Flip it (Ctrl+F), it is now masked to Blue.
Use the deal to other side menu command; the card does not change for either side.
Have I got something wrong or is this new function not quite working yet?