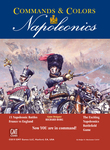 The Vassal module for standard-sized Commands & Colors:Napoleonics has been updated to v4.0.6 and is now available for download.
Summary of changes (since v4.0.3)
Game start quote from Napoleon & a tip for using the module.
Masked card in hand can now be taken over (i.e. unmasked) by left-click.
Line of Sight offered in private as well as shared view
Scenario set up and other minor fixes.
Module page re-organised to separate Standard and Epic/La Grande Battle variants.
Full change log in files section.
Users of Version 4 are recommended to update and to ensure that any opponent is using the same version of the module.
Vassal v3.5.8 minimum required and recommended. Vassal v3.6 should work but has yet to be thoroughly tested with this module.