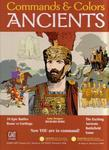 Commands & Colors: Ancients module v4.3.4 is now available for download.
Highlights since v4.3 initial release:
Section cards play to correct part of normal format board!
New content! MK03 EPIC Pharsalus - latest scenario in Michal Kowalczuk's Roman Civil War series.
Mac players can use ⌘ (command) in place of ⌃ (control) to trigger common hotkeys.
CDG Solo mode fix: "Order One" end turn action will draw just 1 face up card.
Game start fix: Startup fully integrated with manual initial card draw.
See Version 4.3 announcement for details of the original release.
Compatibility
Broadly compatible with previous v4.3 releases but, for best reliability, all players should use the same module and Vassal version. Not backward compatible with releases prior to v4.3, except for viewing v4 games.
Requires Vassal v3.6.17 or later.