Commands & Colors: Napoleonics, v4.1.11 brings a feature especially to help new and occasional players. Click on the sample player aids above to learn more. Click here for the download [now v4.1.14].
Key Points
Bug fix! Edges of terrain pieces now respond to mouse-over
New scenario! MM12 Campo Maior, 1801
New feature! In-game player aids
Automatic no battle marker is applied on movement of Foot Artillery, Rocket and 1 block Horse Artillery.
MacOS players can use ⌘ (command) in place of ⌃ (control) for common hotkeys
v4.1.12 updates
Fixed: Elan end turn buttons were ineffective since v4.1.10.
Fixed: icon / text personal game option was affecting all players.
Basic terrain mouseover rationalised; only displays necessary elements.
Discard functions now more easily discovered on player hand toolbars.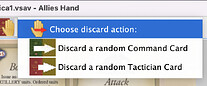 v4.1.13/14 updates
Fixed: Player aids mis-formatted for units that can ignore flags. See follow-on reply for additional info.
In-game player aids operate in Special window too.
Minor scenario (BH10) and catalog (FG01) fixes.
For the full list of changes, review the change log from v4.1.10 onwards.
Recommended settings
The following settings should be checked on the specified tab and adjusted as necessary in module Preferences (renamed Settings on later versions of MacOS):
[General] Delay before automatic stack display (ms): 250 - adjusted to taste - for in-game Player Aids and other hover-text features.
[General] JVM maximum heap (in Mb): 1024 - to ensure log files will save!
Compatibility
Backward compatible with version 4.1.x log and game files. May be used in games with releases back to v4.1.9, with minor limitations. For best reliability, players should use the same versions of the module and of Vassal.