I am modifying the latest version (2.0) of the "TP: Stalingrad" module. I added this new Global Key Command trait to the Main ("Stalingrad") Map: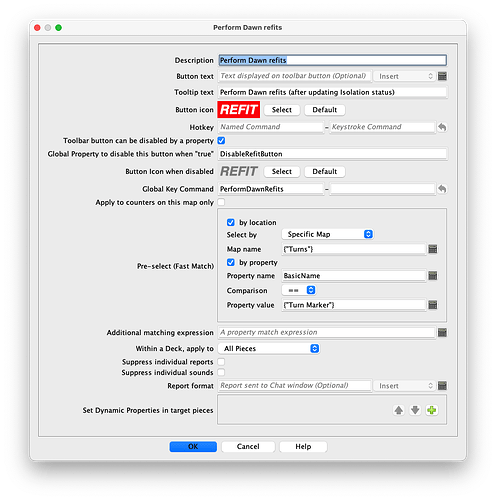 This trait adds a new "Refit" button to the Main Map Toolbar. That button can be disabled, and I defined an image ("RefitButtonDisabled.png") for that button when disabled. The button appearance (both enabled and disabled) is working as expected.
However, when I run the "Remove Unused Images" utility from the Module Editor Toolbar, the "disabled button" image is included in the list of unused images: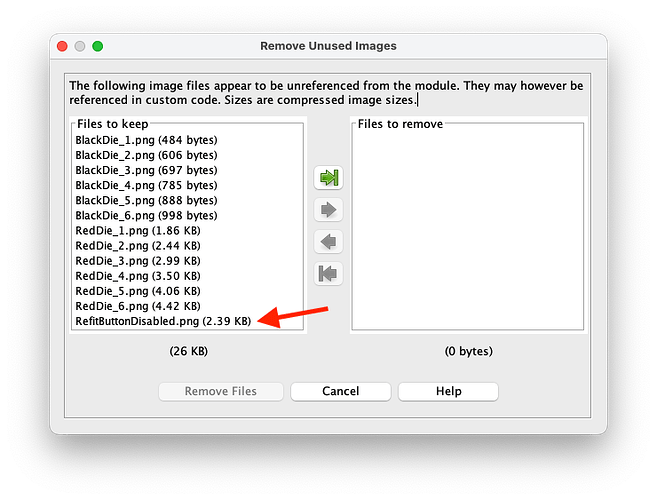 This seems like a bug to me.
Note that the other 12 images which are listed as "unused" are also actually used by the module, but only via explicit file path references embedded within an HTML string for a Report Action trait. I can understand why the module might not spot those references and I don't think it is worth "fixing" that issue. However, the "disabled button" image is directly referenced within the GKC trait, and I suspect the Vassal design intent is to detect this reference.
The (in development) test module can be found in my Dropbox here.
The newly added GKC in question (Description = "Perform Dawn refits") was added under the "Toolbar buttons" folder of the "Stalingrad" Map Window. Interestingly, it seems that none of the fields defined in that GKC (only) can be found by the Editor "Find" (Ctrl+F) function; that may be a significant clue.
Cheers,
Jim Hunter.