Hi Vassal Gurus,
My friends and I would like to play a P2P game. (We could go the server route, but I'd rather not, if possible.) I'm struggling with the instructions and was hoping you guys could take a look. FYI, we're running VASSAL 3.5.8.
I'm reading VASSAL 3.1 User's Guide Version 1.1, November 2011
I've already followed the instructions for "Resetting Your Default Connection" on p 8, for my laptop and my friends' laptops. No problems thus far. Now to host a game on my machine!
To host a game on my laptop, I follow the "Launching a Game → To start a peer-to-peer game" instructions (p 9). They state:
1. In Module Manager, in the Module Library window, double-click the module you want to play. The Welcome Wizard opens.
2. In the Welcome Wizard, under Select play mode, choose Look for a game online, and then follow the other Wizard steps as the module requires.
3. Click Finish. Your module now loads.
4. Click the Connect button.
5. In the Server controls, click Invite Players.
6. In the Direct Connection dialog, enter another player's IP address and port number and click Invite. Then, continue this process for each of the other players.
…and there's more instructions beyond that. I get stuck between Steps 4 and 5.
Here's me at Step 4 ("Click the Connect button."):



When I click the "Connect" button, it opens the "Direct Connection" window. (below)
But Step 5 says "In the Server controls, click Invite Players.":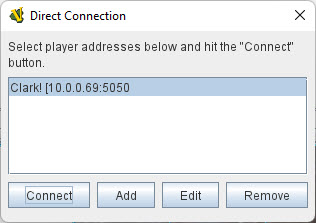 I don't see a "Invite Players" button. Here, I can click "Add", enter my friend's name and local IP address, then click the "Connect" button. The moment I click "Connect", the player log reports:
- Invitation sent to Player Clark [10.0.0.69:5050]
But on my friend's laptop, nothing happens. No invitation that I can see arrives.
I have a funny feeling that this is an issue with our laptop's firewalls, but I don't want to mess with our firewalls to test until I'm reasonably sure I'm following procedure. Do you see something here that suggests I'm screwing up the instructions? Thanks!