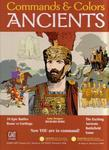 Commands & Colors: Ancients module v4.3.11 is available! Download here.
This release fixes a bug whereby a duplicate First Strike replacement draw could occur in normal mode/format games.
Please Update!
Compatibility
Broadly compatible with previous v4.3 releases but, for best reliability, all players should use the same module and Vassal version. Not backward compatible with releases prior to v4.3, except for viewing v4 games. Requires Vassal v3.6.19 or later.