Would Friday, July 1st, 1200 Eastern Time USA, 1800 CET work?
I believe so! Do you prefer Skype or Discord for communications?
I don't have Skype or Discord. Will just use chat window on Vassal. I'll set up as Iranian and host. Room will be called ROI.
See you on Friday,
Best Wishes,
Dave
Ok I will see you then! Is the module on the Wiki repository or is it hosted somewhere else?
Module is at Vassal website:Vassal (vassalengine.org) Click "Modules", in R section. At 1800 on Friday click on Raid on Iran, click "look for game online", I'll have a room titled ROI, join room (you might have to right click). I've been playing this game for the past month and you'll need to click the "counters" button and then chat window is operable. It's pretty easy to use. You might want to start a game offline to familiarize yourself with the module.
See you Freitag,
Dave
Not the best photo, but legible. These are the original rules from a 1980 produced game. Good game. See you Tuesday, 1800 your time.
God Bless and Good Luck!
Dave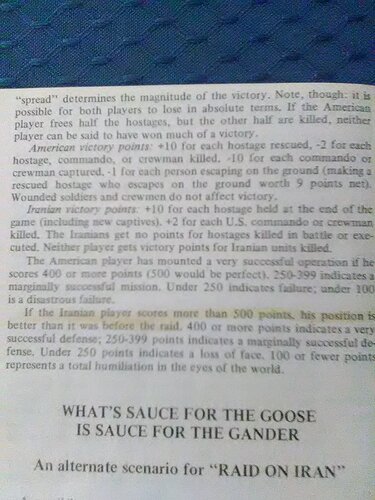 So there is a difference between the two rules. That little bit there rapidly changes the way both the American and Iranian player would go about their operation.
If I knew I get penalized for a ground extraction I would have used my security platoon to secure an LZ instead of the breach point in the embassy.
We can play it that way Tuesday if you like. This Tuesday will probably be my last game for a while though as I am supposed to move to Kansas in 2 weeks.
Will set up for Tuesday, 1800 your time. Tehran would have been a bad place for ground evacuation. I think helo evacuation only makes for a better game.
Best Wishes,
Dave
Are you up for some more Raid on Iran on Vassal?
Best Wishes, Dave
Good Morning!
I am afraid I can not; CGSC is very demanding and I have minimal free time.
Its supposed to slacken up work load wise after Thanksgiving so maybe around that time I will have more time available.
Okay Devin!
Wishing you the very best and I'll try after Thanksgiving.
Best Wishes Sir,
Dave Rost
Hi everyone! Looking for PBEM opponents for Lock n Load Tactical ( any WWII module ). I am fairly familiar with LnLT system WWII rules and willing to teach new player. I am new to Vasal but I have it installed and I think I have figured out how to do PBEM log swap.