Vassal 3.6.7 WIN64
When mousing over a stack, the stack viewer does not show the Mask Image Overlay (in this case "?" at each of the 4 corners).
This is when using MASK
DISPLAY STYLE - Use Image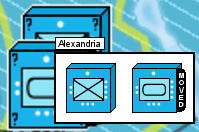 The enclosed image shows this for an expanded stack.
While this isn't a huge issue for an expanded stack, it is an issue for a collapsed stack w/ many pieces.