Vassal v3.6.3
In an upcoming module, I have used Decks to keep a tally of certain blocks. A text label, overlaid across each deck, has been working well as a means of displaying the count: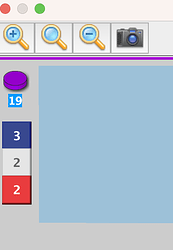 Each group in this picture, purple counters and the blue, white and red blocks is an individual deck.
The number below the counters and on top of each set of blocks is a count of the form:
<DeckName>_numPieces
All works well, except when a block is removed from one of the "Text Labelled" decks, immediately followed by UnDo. This is the result, using the blue blocks as an example:


Removing all blocks from the stack will show the text label (normally blank, but test data shows it is there).
Also, the Text Label for the purple counters is not affected, nor are the other labels if they are re-postioned away from the deck.
This seems to be a bug whereby UnDo does not restore the Text Label to its original position overlaying the deck.
Any thoughts welcome, before I put in the effort to distill a demo module.