Howdy! I'm looking for some opponents to match up against in Warline async PBEM play. The Warline module can be found right here.
About Warline:
A "maneuver warfare sandbox game" modeled on Boyd's Theory of Maneuver Warfare.
A blend of historical wargame mechanics, miniatures wargame mechanics, and Chess-like mechanics. (Warline is a very "sport-like" game.)
To begin a match, both sides "craft their own strategy" via tile placement, army configuration, and custom deployment formations.
After strategies are crafted, the game moves into tactical command. Here, you activate battalions and spend their action points to create custom chains of actions and combos (which can get rather elaborate).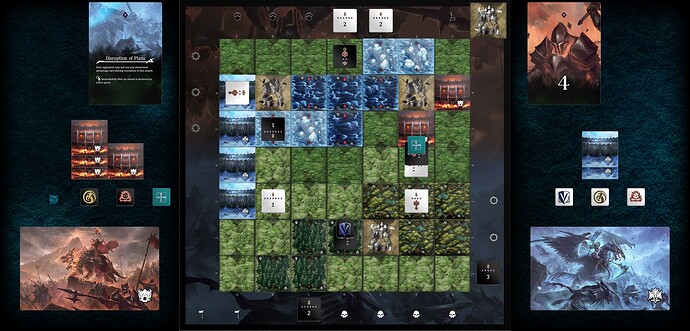 Here's a 100-ish word distillation provided by a fan of the game:
The Strategicraft [the stages in which both sides interactively create their strategies] sounds like an advanced setup with more involvement from the players on a strategic placement level - semi-simultaneously. Like a distillation of miniatures wargames with army construction and tile laying. And then it goes into turn-based action selection. You can draw cards on your turn or you take one action each with up to two battalions. The maneuver action sees you spending action points to take sub-actions. This is similar to most historical wargames and miniatures wargames I'm familiar with. There are 5 possible ways to win, not all of them combat focused.