Will this feature be back to see who is online playing? I often used it.
It never went away. The server status is still exactly where it was before, linked from the bottom of the front page: Vassal Status
Though it is quite harder to find now.
Please explain. I don't understand why people are saying it's harder to find now.
Not original poster, but…
The link to status is on the homepage (at very bottom), but it would be helpful if it were added to the "Menu" icon…
Not uncommon for experienced users to either not go to the homepage at all or just skip past it…
Right I usually come into the page straight-to-forum or straight-to-wiki. Plus anything at the bottom of the page is near the, well, bottom of any eye-tracking test.
Me either. It has always been standard forum software that who is online isa always at the bottom of the page… What is the issue?
I tested your query about if it is more difficult to find and went to the home page and it was not obvious to me, even though I thought I knew what I was looking for. As I recall, on the old homepage, it was higher up just under the Get Vassal link and contained some verbiage to click here to see "who is playing online" or something like that. Definitely there was more than just the word status. I don't have a screen shot of the old homepage, but I agree it was more obvious previously…
This is the old page, from archive.org: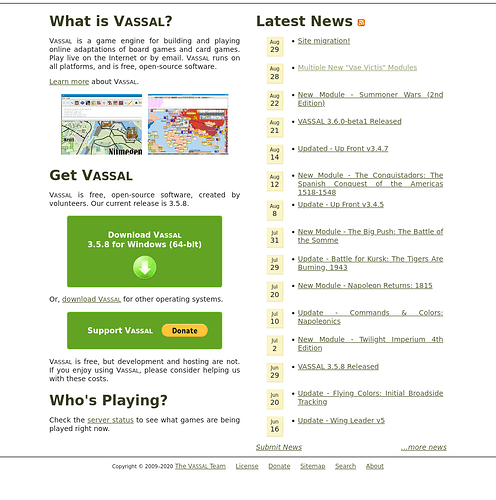 The server status link was nearly at the bottom.
If you think it should be different from how it is now, show me. You have the HTML and CSS and Chrome and Firefox at least support live editing of pages.
I suggest adding "Status" to the drop down menu that appears when you click "Menu" (3 horizontal bars icon).
I also wonder if it might be clearer to use "Recent Games" or "Who's Playing" (like before) or something similar…
Here are some ideas

Or that bottom box could also say "Who's Online?" rather than "Status" or even "Server Status". I think the bigger version is the most important part for the main page. But if there's a "standard footer for every page" then the little version under the Copyright message could just have a more friendly way of saying what it is (just "Status" is… very obscure).
I also like Korval's idea as an added bonus, and it could also be done.
Brian