Hello VASSAL Masters,
In my current module, I'd like a button on the Main Board that activates a pop-up window which contains the game's rulebook. I see that you can largely do that with a Chart Window Menu. That's really great, thanks for that feature.
But I'm curious: My rulebook will have lots of text and diagrams. I'd also like to break it up into chapters so the whole thing isn't one enormous document that takes forever to scroll through. My knowledge of HTML docs is limited, but to have a web page that links to other local pages and contains pictures, wouldn't that mean I'd need to have lots of additional HTML docs and JPEG images, all contained within a directory structure? It might look something like this:
rulebook.html
chapters_directory/
   howToBeginAGame.html
   beginAGame_subdirectory/
       gameOptions.html
   howToSelectUnits.html
   strategyGuide.html
diagrams_directory/
   diagram1.jpeg
   diagram2.jpeg

And so on. All of those files and directories would be necessary to surf the webpage.
So when I put my HTML doc into my Chart Window Menu, I specify that main page, rulebook.html: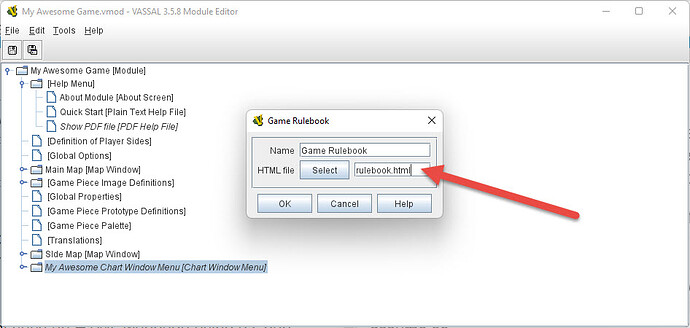 So here's my real question: What is actually ingested into the .vmod module file? Is it just the main page only? Or all the supporting pages/images/directories? I'm guessing its the former.
This is a concern because my friends and I play this game using peer-to-peer connections. I'm used to sending them that latest module file via a shared cloud drive. I don't want to send them a .vmod file plus a bunch of supporting HTML materials; they'll just mess that up. Thank you!