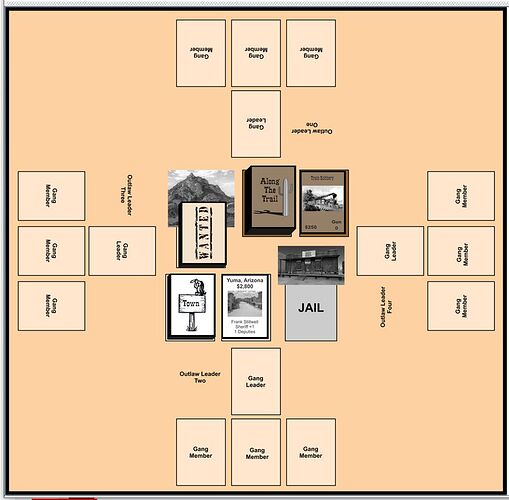 I am attempting to create a Vassal Module for my new card game about the old west. The photo shows how far I have gotten.
I have a couple of design questions. The photo shows how the game would be laid out on a table.
Each player starts with 4 outlaws in their "hand" they place them on the table with one outlaw, the Leader, in front of the other 3 members of the current gang. All these cards are visible to all players.
My question is should I attempt to keep this format, or have each Players "Hand" in a separate window with the Outlaw cards lined up?
The 1st on the left would be the "Leader", the next three would be visible to all and any subsequent cards would be in a pile face down so only the owning player could see them.
A 2nd question would be how to get the "Outlaw" cards to be facedown when placed in the jail space. Right now they remain face up.
As a bit of background…
I am currently watching, on YouTube, both John Dinger's design series as well as Joel Toppen's series.
But both are geared toward games with tokens and proper maps. Neither are really card games.
Any suggestion for you pros would be appreciated.
The game is up on Board Game Geek: Hole In The Wall | Board Game | BoardGameGeek
Thanking you in advance
Will Annand