In area movement games such as Breakout: Normandy, Victory in the Pacific and Turning Point Stalingrad, a game piece can be moved anywhere within its area without having any significance to the game. Such in-area moves are typically done to reorganize stacks of pieces for aesthetic reasons.
Implementing Movement Trails in such games can often result in confusing clutter such as this: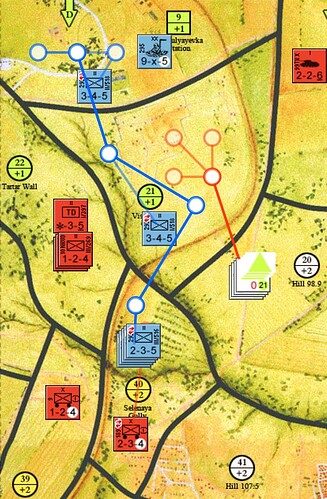 It would be desirable if these "multi-hop" Movement Trails could somehow be "collapsed" to ignore all "hops" that are within the same area.
Ideally, no trails would appear until a piece is moved out of its starting area, and that inter-area move would be represented as a single "hop" for each new area that it moved to, regardless of how many intra-area moves also occurred.
Can this behavior be implemented using vassal's current capabilities (perhaps with the recent Mark When Moved changes that Cattlesquat made for Korval)?
Cheers,
Jim Hunter