I'm working on a little project that has vexed me, and I wonder if anyone has some advice on how to solve my problem. I have done similar things in the past, but this one is beating me.
I have created a "battle calculator." See the mockup image below. A player presses a "calculator" button on the toolbar. This toggles the battle calculator's (BC) appearance, either on screen where it was before or to off-screen.
The player clicks on the attacker or defender arrow and punches in the combat points. They then press "Roll!" to get a result. (I would probably change "roll" to "show odds," and the red die would become a button itself.) The die would change color when rolled to show feedback. When done, they dismiss the BC.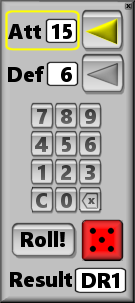 The BC is not a window; it's a single piece. The trouble with a single piece is that it is difficult to manage the little components on it. I have to create action buttons for each button, which means I must define the button areas. The real headache though is the text areas–here the 15, 6, and DR1. I have had little success in creating or positioning multiple text fields on a single piece.
Ideally, and what would make this a breeze, is if I could make the mini-components into individual pieces that are placed on a bigger piece. I call this a compound piece. I've done this in the past with everything isimmobile, but I can't fix the BC to one location by its nature. People need to move it.
I had hope the mat and cargo traits would solve my problem. It's close, but no cigar. Players can start pulling off buttons, and the BC disintegrates. I wondered if maybe I made the components immobile (via "does not stack"), then it would work. Dragging the mat around moved the immobile components too (yay!), but I could still drag "immobile" cargo off the mat–and THEN the pieces became immobile. Nuts.
In short, I wish there was a way I could glue (lock) cargo to a mat so I could treat it as one unit. I'm now stuck, and perhaps it's impossible. Too bad if true. If anyone has any ideas, please share them, and thanks for reading my long message.